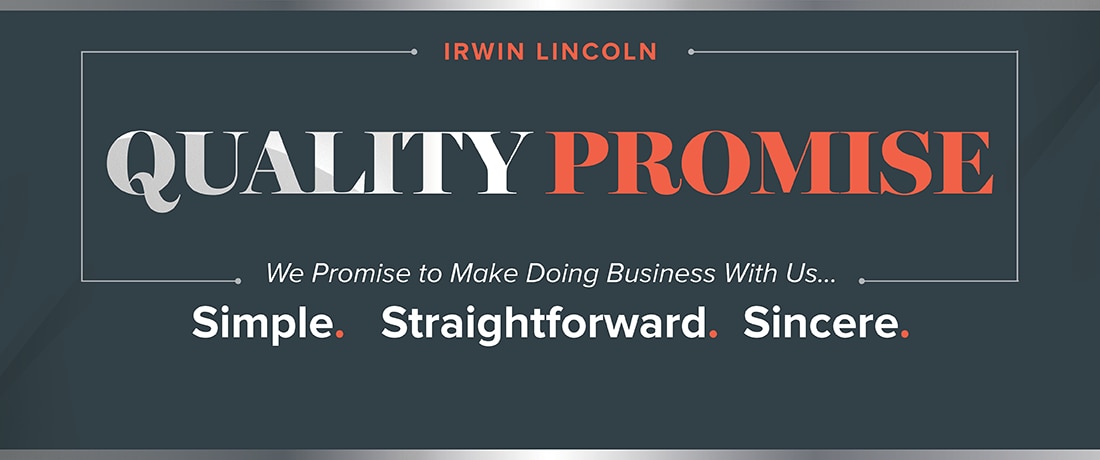 SIMPLE
We are committed to doing business in an simplified manner which makes your whole experience effortless. We focus on finding the vehicle that best suits YOU at a competitive price without any hassles or high pressure. 

---
STRAIGHTFORWARD
At Irwin, all of our consultants will  respect you as a customer and as a person and will treat you kindly and fairly in every way.
---
SINCERE
We promise to stand by and honor all commitments made during and after your purchase. Any price quoted that we agree to WILL NEVER BE CHANGED! You will never be surprised with any hidden fees. AND, any pricing that we quote will be tailored to your buying situation.
---
Everyone at Irwin has one goal..."To Make Every Sales and Service Experience Effortless". Our commitment to your satisfaction is what makes Irwin the place where Central Jersey customers prefer to do business.
This is Our Promise to You...Today & Every Day!
Carlos Sousa,
General Manager

Questions About Our Quality Promise? Please Ask Us Anything!
* Indicates a required field